Experience faster, more efficient cooking with the Hoover HRTPSJ644DCWIFI Hob. The 60cm black Vetroceramic induction hob offers powerful cooking performance and flexibility. Plus, it comes with WIFI and Bluetooth connectivity. Allowing you to take control of the cooking from your tablet or smartphone.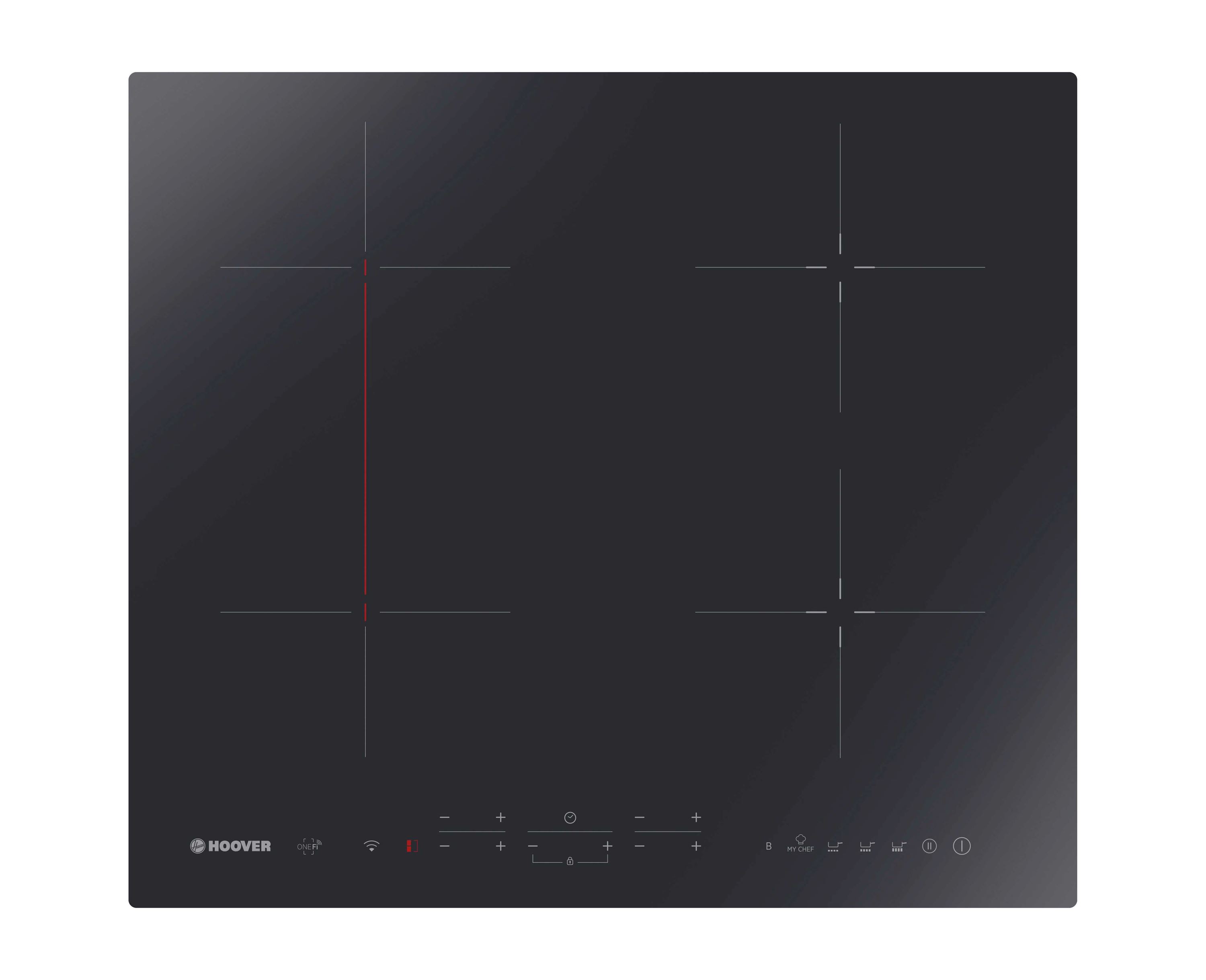 Powerful Cooking Performance
The hob's four zones each come with a respectable nine power levels. Plus a Boost function for rapid heating when you need it. Faster than boiling a kettle for hot water. This gives you precise control over the temperature of your cooking, making it easier to ensure every dish is cooked to perfection. And, if you need extra space for bigger pans, or keeping things warm, the flexible cooking area can accommodate this. So, whether you're cooking with a smaller pan, or fitting food for the whole family in, you'll be able to ensure everything gets cooked fully.
There's also a timer function. So, when you're following specific cooking instructions, you can set the correct time for your simmering or sauteing, to be alerted when it's time to move on to the next step in the recipe.
If you need to stop mid-cooking, the hob comes with a handy Quick Pause function. Allowing you to leave your cooking without worrying about it burning, boiling over or drying out. When you're ready, simply un-pause to return to your settings and get back to cooking. The easy to use touch control panel makes managing the cooking simple.
Superb Safety Features
When it comes to safety, the hob features a child safety lock, preventing children (or resourceful pets) from accidentally turning it on or adjusting the temperature. And with residual heat indicators, you'll know when it's too hot to touch the surface, preventing any nasty burns.
Powered by induction, the zones are designed not to heat up until there is an induction compatible pan placed on top. An added safety measure that helps keep you and your family safe when in the kitchen.
Advanced Control with WIFI & Bluetooth Connectivity
One of the best features of this high performance hob is its WIFI and Bluetooth connectivity. Power up and control your hob using the smart Hoover Wizard app on your smartphone or tablet. Available for download on both iOS and Android devices. The app allows you to adjust the temperature, displaying the precise temperature and remaining cooking time. So, you can easily monitor your meal while getting on with other tasks or holding a conversation.
With the app, comes the Energy Wizard function, which lets you control and monitor the amount of energy your hob is using. You can get monthly or even weekly reports to your device, helping you track your power usage and make changes to reduce your home's energy consumption.
Finally, the hob's elegant black Vetroceramic surface is easy to keep clean. Food spills and grease are easy to wipe away with a damp cloth. And there are no awkwards crevices where food can get stuck. Cutting your cleaning time in half.
Pick up the state of the art Hoover HRTPSJ644DCWIFI Hob from conway tv today and get a guaranteed great deal. With our Price Match Promise, you won't find it cheaper elsewhere online. We also offer great customer service, with collection or delivery within Cookstown. Browse our website for a wide range of Hoover appliances. Or check out our hub for more reviews like this one. For more Hoover hobs in Cookstown, view our range today.