Clearing up after mealtime shouldn't be an endless chore. The Hoover HDYN 1L390OW Dishwasher makes clean up a breeze. Easy to use, with plenty of space to handle the family washing up. This freestanding, front loading dishwasher comes in a classic white finish. Perfect for medium to large sized households. Freeing up your time and energy by expertly and carefully taking care of all your dishes and glassware for you.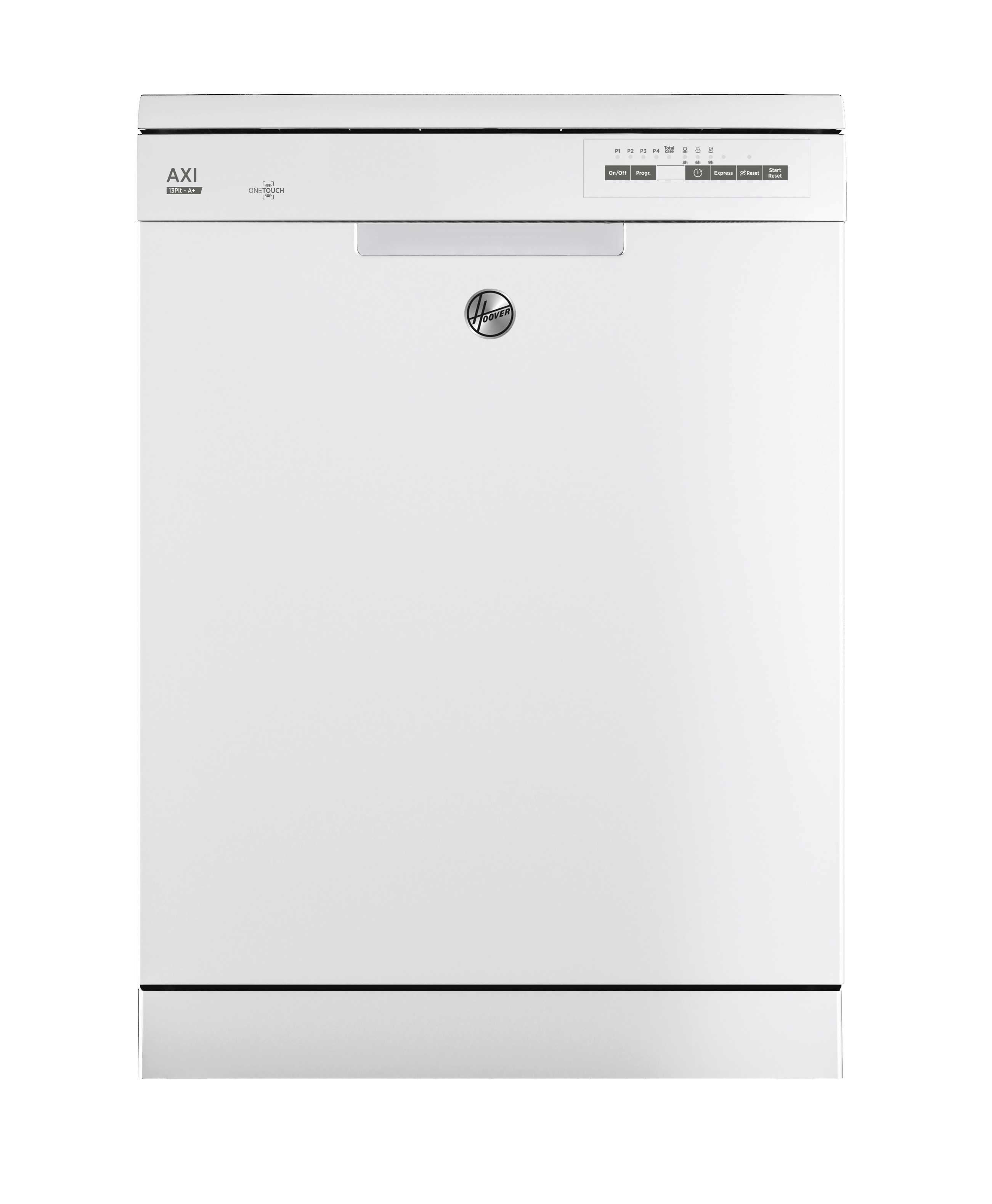 Top Rated Washing and Drying Performance
Awarded a A class washing and drying performance, this dishwasher efficiently handles the washing up, while protecting even your delicate glassware. It's full size, meaning it can hold up to 13 place settings. And, with an adjustable upper basket, loading and unloading large or bulky items is easy and hassle free. At 60mm width, it should easily fit into most mid sized kitchens.
Super Easy to Use
Using the HDYN 1L390OW couldn't be easier. It contains just the right amount of settings for great cleaning results, without overwhelming you with complicated buttons or programmes. The simple one touch control and clear to read LED control panel are conveniently located and make getting to grips with this machine quick and easy.
Utilise the machine's delay timer to set the wash for a time that suits you. Or make use of the quick wash setting for when you have guests coming over and you need clean cups fast. There's a handy time remaining display, so you can see how long is left on the wash. Plus an end of cycle indicator so you'll know when your dishes are ready to be used again or put away.
And clear indicators displaying the rinse aid and salt levels let you know when they need replacing. Keeping your dishwasher running in tip top condition, giving your dishes the clean they deserve. The HDYN 1L390OW comes with a handy 1 year manufacturer's warranty. So, you can rest assured that if anything does go wrong, your purchase is protected.
Reliable Cleaning Programmes
With 5 programmes to choose from, you'll easily find the right settings to effectively clean your dishes and glassware. There's even an eco wash option. Perfect if you're environmentally conscious. And with an A+ energy rating, you'll save on your household energy consumption. Good for the planet and your bank account.
Getting the best dishwasher for your home is often challenging. Even once you have picked your Hoover product, you still require great customer service and flexible delivery options in Cookstown. At conway tv you can get the Hoover HDYN 1L390OW Dishwasher with great service and a guaranteed excellent price, browse our Hoover Dishwashers in Cookstown today.